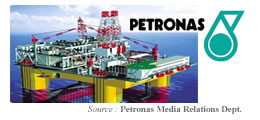 PETRONAS today signed a Memorandum of Understanding (MOU) with Indonesia's PT Perusahaan Listrik Negara or PT PLN (Persero) towards the development of a liquefied natural gas (LNG) re-gasification terminal in West Java, Indonesia.
The terms of the MOU include plans for the two parties to undertake a joint study for the proposed development of the project, to be known as West Java Re-gasification Terminal.
The terminal will initially have a capacity of 400 million cubic feet per day, and this will eventually build up to 800 million cubic feet a day. Expected to be operational in 2007, the terminal will complement Indonesia's existing gas supply sources to meet the growing gas demand in that country.
The MOU is another significant milestone for PETRONAS in its efforts to establish a long-term presence in Indonesia's oil and gas industry, where it is already an active player in the upstream sector of the industry.
More recently, PETRONAS ventured into Indonesia's downstream business, mainly in the marketing and distribution of its petroleum products.
Issued by
Media Relations & Information Department