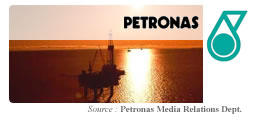 PETRONAS, through its exploration and production subsidiary PETRONAS Carigali (Overseas) Sdn Bhd, recently signed a Cooperation Agreement with Tharwa Petroleum Company of Egypt.
Tharwa Petroleum is the exploration and production arm of Egyptian petroleum authorities Egyptian General Petroleum Corporation (EGPC) and Egyptian Natural Gas Holding Company (EGAS).
Under the three-year Agreement, PETRONAS Carigali and Tharwa Petroleum will conduct joint studies to identify the hydrocarbon potential of concession areas within Egypt and elsewhere in the neighbouring regions. Findings of the studies will be evaluated and submitted to the authorities where PETRONAS Carigali will then be given the first option to participate in the exploration, development and production of these areas. In exchange, PETRONAS Carigali will assist Tharwa Petroleum in the development of personnel as well as in the acquisition of new technologies and expertise. A Joint Consultative Committee has been set up to facilitate and implement areas of cooperation between the two parties.
Prior to this signing, PETRONAS Carigali had in January 2005 entered into a farm-out agreement with Tharwa Petroleum to develop four concession blocks with a total area of about 60,000 square kilometres in Egypt's Western Desert.
PETRONAS, which first entered Egypt in 2001 through a joint venture with Shell in the North Mediterranean Deep Water block, is an active player in the country's upstream and downstream oil and gas activities. Since then, PETRONAS acquired a 50% working interest in and is a co-operator of Egypt's offshore West Delta Deep Marine (WDDM) concession.
It also has a strategic interest in the Egyptian LNG Project, which receives its gas from WDDM, in partnership with BG, EGPC and EGAS. The first train of the two-train LNG plant has already commenced operations.
Issued by
Media Relations Department