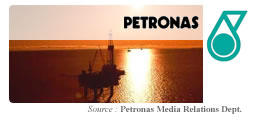 It has been brought to PETRONAS' attention once again that a syndicate, believed to be based in Indonesia, is still running an SMS scam using PETRONAS' name to con members of the public.Cellular phone users have been receiving a SMS that reads: "Pengumuman dari PETRONAS MAS. TAHNIAH! SimCard anda bertuah memenangi undian wang RM14,000. Sila hubungi telefon 006285880214502. Terima Kasih."
("Announcement from PETRONAS MAS. CONGRATULATIONS! Your SIMCard has won a lucky draw of RM14,000. Please call 006285880214502. Thank you.")
PETRONAS is made to understand that despite our numerous previous announcements on this matter, members of the public still fall prey to the scam.
PETRONAS wishes to clarify once again that it has never organised such a contest and appeals to members of the public not to be easily misled by the syndicate.
PETRONAS has lodged another police report on this matter.
Issued by
Media Relations Department