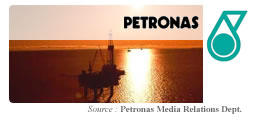 Foggy PETRONAS Racing, the team sponsored by PETRONAS to race in the World Superbike Championship, was officially launched today, just five weeks before its planned debut in the Laguna Seca round of the championship in July.
The London launch of the team, headed by four-time British World Superbike champion Carl Fogarty, also saw the unveiling of the eagerly awaited race bike, the FP1.
The understated launch ceremony was officiated by Tan Sri Dato' Seri Azizan Zainul Abidin, Chairman of PETRONAS, together with Fogarty. It was also attended by Peter Sauber, Team Principal of the Sauber PETRONAS F1 Team and several other senior officials from the motorsports industry.
PETRONAS has signed a five-year deal with Fogarty to run Foggy PETRONAS Racing to compete in the World Superbike Championship. The team riders, former World Superbike champion Troy Corser and British star James Haydon, are expected to begin their testing programme with the FP1 bike later this month.
Speaking at the launch, Fogarty said: "This is one of the proudest days of my career. I cannot wait to enter the FP1 in the championship and start repaying the faith that PETRONAS has shown in me and the team.
"The team has been working hard to have the FP1 ready on time and we have to say that this is the most beautiful bike we have ever seen. Our job now is to make sure that this is also one of the fastest and most reliable, and that all our efforts contribute to the development of the ultimate production superbike."
The entry of PETRONAS Racing in the World Superbike Championship paves the way for PETRONAS to begin commercial production of the road version of the FP1. To meet the requirements of the World Superbike rules, an initial batch of 150 units of the road version of the machine — essentially Malaysia's first superbike — are expected to be launched later this year.
The engine of the FP1 has its origin in the GP1, the four-stroke, 989cc motorcycle engine designed and developed by Sauber PETRONAS Engineering unveiled last year. The original engine, which was based on F-1 technology, has been modified and redesigned to meet the World Superbike rules by Suter Racing International, the Swiss-based engineering company appointed by PETRONAS to be its partner to redevelop the powertrain for both race and road use.
Six PETRONAS engineers are involved in the development project, three of whom are attached with the Foggy PETRONAS Racing Team, while another three at Suter Racing International.
Issued by
Media Relations & Information Department
Legal and Corporate Affairs Division