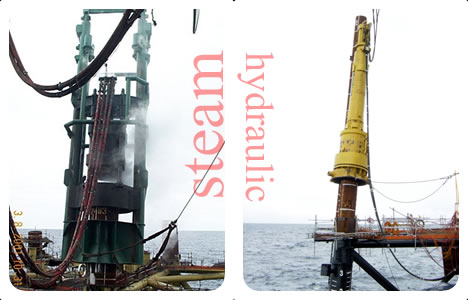 What a nostalgic picture… Especially the one on the left.  Its a steam hammer!!! Haven't come encounter one since year 2000.    The last time i use this hammer, Vulcan Hammer was during onboard DB 30 installing  8 legged jacket for in Malaysia.  Nowdays most of the time; or i would say every piling works i encounter would be utilizing Hydraulic Hammer, specifically Menck Hydraulic Hammer.  No more steam hammer.  Even DB 30 (If i'm not mistaken) have removed the steam vessel for the steam hammer (Which last time was installed permanently onboard the barge). 
Notice this: This post was written sometimes in year 2006. Please comment based on latest available offshore piling technology.

Owning these 3 hammers will be a huge advantages MHU 270, MHU 500 & MHU 800s.  There is a lot of technical reason why they come out with this 'trio'.  Putting a side a cost factor, the reasons why would be;
MHU 270 = Most of the time can drive all conductors.
MHU 500 = Most of the time can drive piles (Especially in SEA soil condition) and depend on the stick-up calculation, it would also act as a standby Hammer for conductor installation.
MHU 800s = Cannot say more… but, have encounter one case where Piling have to bee done by the MHU 1600  – Somewhere in Malaysia-Thai Joint Venture Area.
Brief on the above Menck Hydraulic Hammer specifications :
MHU 270T Specification:
Energy Range (Min/Max) = 30-305 kJ
Blowrate  = 40 Bl/Min
Weight = 30.8 Mt
Length = 9.6 m
MHU 500T Specification:
Energy Range (Min/Max) = 50-550 kJ
Blowrate  = 38 Bl/Min
Weight = 54.2 Mt
Length = 11.8 m
MHU 800S Specification:
Energy Range (Min/Max) = 80-800 kJ
Blowrate  = 38 Bl/Min
Weight = 79.6 Mt
Length = 12.5 m
Btw, Back to the original story which suppose to be Steam vs Hydraulic hammer… I believe some of the readers aware about the difference and pro-con about the two system.  You might want to share with us by commenting this post.  I leave you with a video of steam hammer in action… NOSTALGIC !