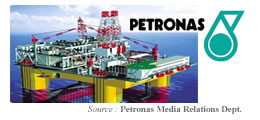 PETRONAS, Malaysia's national oil corporation, and its Vietnamese counterpart PETROVIETNAM, today signed a Petroleum Contract to jointly explore for and develop hydrocarbon resources in Blocks 01/97 and 02/97 offshore Vietnam. Under the contract, PETRONAS and PETROVIETNAM will form a joint venture company to operate the blocks.
PETROVIETNAM Exploration and Production Company (PVEP) and PETRONAS Carigali Overseas Sdn Bhd (PCOSB) will participate in the joint venture company, called LAM SON Joint Operating Company, on a 50:50 basis. PVEP is a wholly owned subsidiary of PETROVIETNAM while PCOSB is the overseas exploration and production arm of PETRONAS.
Blocks 01/97 and 02/97 are located in the prolific Con Son Basin about 150 kilometres offshore Vung Tau, adjacent to the existing Blocks 01 and 02 operated by PETRONAS. Blocks 01/97 and 02/97 cover an area of approximately 11,800 square kilometers with oil and gas potential.
The award of the blocks was the result of direct negotiations between PETRONAS and PETROVIETNAM in 2002. The Joint Operating Company is expected to conduct geological and geophysical studies in 2003, and plans to drill one firm and one optional exploration well in 2004.
The Petroleum Contract signed today is the fifth of such contract awarded to PETRONAS in Vietnam since its entry into the country 11 years ago. In 1991, PETRONAS was awarded the contract for Blocks 01 and 02. The Ruby field, discovered in these blocks, came on stream in 1998 and is now producing about 19,000 barrels of oil per day. In 2002, PETRONAS signed three more contracts, namely for Blocks 10 and 11-1, Block 46-Cai Nuoc and Block 46/02.
This year, PETRONAS and its partners plan to drill seven exploration wells: three wells in Blocks 01 and 02; two wells in Blocks 10 and 11-1; and one well each in Block 46-Cai Nuoc and Block 46/02. PETRONAS has also formulated plans to further develop the Ruby field with the installation of a new platform and drilling of nine additional wells in 2004. PETRONAS is also discussing with PETROVIETNAM for the development of the Emerald gas field, also in Blocks 01 and 02.
At the Petroleum Contract signing ceremony held in Hanoi today, PETRONAS was represented by its President and Chief Executive Tan Sri Dato' Mohd Hassan Marican, PETROVIETNAM by its President Mr Nguyen Xuan Nham and PVEP by its General Director Dr Phung Dinh Thuc.
Issued by
Media Relations & Information Department
PETRONAS