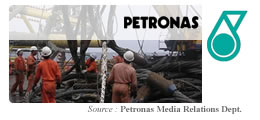 PETRONAS today signed a Production Sharing Contract with PETRONAS Carigali Sdn Bhd and ConocoPhillips for the Kebabangan Oil Field offshore Sabah.This contract is the third to have been awarded to ConocoPhillips in Malaysia; the other two for Deepwater Blocks G and J, also offshore Sabah, where the company is in partnership with PETRONAS Carigali and Shell.
The Kebabangan Oil Field, which covers an area of about 30 square kilometres, is situated about 94 kilometres northwest of Kota Kinabalu in water depths ranging from 120 metres to 250 metres.
Under the terms of the PSC, PETRONAS Carigali and ConocoPhillips will jointly operate the field. PETRONAS Carigali, the exploration and production arm of PETRONAS, will own 60 per cent working interests in the field, while ConocoPhillips will have the remaining 40 per cent.
The PSC also calls for the partners to reprocess 300 square km of 3D seismic data and drill one appraisal well in the field with an aggregate depth of not less than 2,600 metres. The minimum financial commitment for the block is US$8.375 million.
At the PSC signing ceremony held at the PETRONAS Twin Towers in Kuala Lumpur today, PETRONAS was represented by its Vice President for Exploration & Production Business, Encik Abdullah Karim, PETRONAS Carigali by its Managing Director/CEO Encik Mohamad Johari Dasri and ConocoPhillips by its Executive Vice President, Exploration and Production Mr. William Berry.
Issued by
Media Relations & Information Department