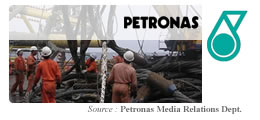 PETRONAS, through its subsidiaries, has added two new blocks into its upstream business portfolio in Indonesia, further testimony to its commitment to establish a long-term position in the oil and gas industry of its ASEAN neighbour.PC (North East Madura IV) Ltd, a subsidiary of PETRONAS, was on 12 December awarded a Production Sharing Contract (PSC) for the North East Madura Offshore Block IV by Indonesia's Badan Perlaksana Kegiatan Usaha Hulu Minyak dan Gas Bumi (BPMIGAS).
BPMIGAS, on October 6, had also approved the acquisition of BP (Muriah) Ltd's entire equity in the Muriah Block PSC by PETRONAS Carigali Overseas Sdn Bhd (PCOSB), another subsidiary of PETRONAS.
Under the terms of the North East Madura Block IV PSC, PC (North East Madura IV) Ltd will acquire, process and interpret 500 square kilometres of offshore 3D seismic data, drill four exploration wells and undertake geological and geophysical studies in the Block during the PSC's exploration phase.
The PSC for the Muriah Block was first awarded to Shell in 1991 and was subsequently acquired by BP in 1999. The block, located about 180 km from Semarang, Central Java, contains a fully appraised, ready to be developed gas field, Kepodang, which is strategically located to supply gas to Indonesia's PT Indonesia Power's Tambak Lorok power plant.

The award of the North East Madura Block IV PSC as well as the approval of the Muriah Block PSC acquisition pave the way for PETRONAS to further expand its presence in Indonesia. These two new blocks brings PETRONAS' upstream interest in Indonesia to eight PSC blocks, two of which are already producing. A relatively new player in Indonesia, PETRONAS is currently building its oil and gas business portfolio in that country. Apart from its upstream assets, PETRONAS also has equity in a gas transmission pipeline network. It has recently ventured into petroleum products marketing and is now set to commence its service station business in Indonesia.
Issued by
Media Relations & Information Department