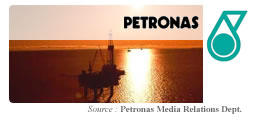 Khartoum, 31 August 2004: PETRONAS, Malaysia's petroleum corporation, today officially launched its mobile library that will be introduced to students of primary schools around Khartoum.
The first of its kind in Sudan, the PETRONAS Mobile Library is the result of collaboration between PETRONAS and the Khartoum State Ministry of Education. The main objective of the project is to encourage good reading habits among primary school students and to provide them an avenue to pursue and acquire information and knowledge.
The Library comprises a converted bus equipped with books and reading materials that will make regular scheduled visits to identified schools to allow the students to enjoy its facilities. For the initial phase of the project, PETRONAS has provided two units of the Library, each equipped with about 1,400 books and reading materials, complete with a librarian on duty. All the book titles are suitable with the schools' curriculum. Under this phase, the two units of the Library will make visits to six schools in Khartoum, Khartoum North and Omdurman identified by the Khartoum State Education Ministry.
PETRONAS will closely monitor the progress of the phase one of the project, taking into consideration feedback from the Khartoum State Education Ministry before implementing the subsequent phases of the Library.
The PETRONAS Mobile Library is testimony to the corporation's long-term commitment to community development through education and human capability enhancement, wherever it operates. Apart from the Library, PETRONAS has since the year 2000 has extended scholarships to Sudanese students to pursue their tertiary education at the Universiti Teknologi PETRONAS in Malaysia.
The PETRONAS Mobile Library was launched at a ceremony at the Taeeb Sayed Basic School in Khartoum North, in conjunction with Malaysia's 47th Independence Day celebrations. The Ceremony was officiated by the Governor of Khartoum, His Excellency Dr. Abdel Halim Ismail Muta'afi. Also present were PETRONAS Vice-President of Education, Dr. Rosti Saruwono and PETRONAS Sudan Country Manager, Mr. Zainal Rashid Mokhtar.
More than 300 guests, including officials from Sudan's Federal and State Ministries of Education and other relevant government departments attended the ceremony, together with officials from the Malaysian Embassy in Khartoum as well as PETRONAS' business partners.
Issued by
PETRONAS COUNTRY OFFICE, SUDAN