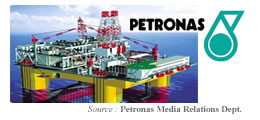 Khartoum, 30 August 2004: PETRONAS Adventure Team (PAT), after successfully completing five extremely challenging international outings, was flagged-off for its sixth annual overland adventure, the PETRONAS Trans Sahara 2004 Expedition.
The flag-off ceremony was officiated by His Excellency Dr. Awad Ahmed Al Jazz, the Minister of Energy and Mining, the Republic of the Sudan. Accompanying Dr. Awad were Mr. Zainal Rashid Mokhtar, Chairman of PETRONAS Sudan, and His Excellency Mohd Zamri Mohd Kassim, the Malaysian Ambassador to the Republic of the Sudan. The ceremony was organised at the PETRONAS Service Station in Amarat, held today to coincide with the fifth anniversary of Sudan's First Oil and on the eve of Malaysia's 47th Independence anniversary.
The 39-days PETRONAS Trans Sahara 2004 expedition will spend four days traveling in Sudan, passing through Atbara, Port Sudan, Osief and Halaib Gate. From Sudan, the convoy of 45 mostly Malaysian participants in 17 four-by-four vehicles will traverse Egypt, Libya, Tunisia and Algeria, and will make Casablanca, Morocco, its final destination on 7 October 2004. The vehicles had been transported to Sudan via ships owned by Malaysia International Shipping Corporation Bhd (MISC), a PETRONAS subsidiary. MISC will also be responsible to ship the vehicles back from Morocco.
In his welcome speech, Zainal Rashid Mokhtar remarked: "Africa is becoming more and more important to PETRONAS, with the company currently having operations in sixteen countries in this continent – Algeria, Angola, Cameroon, Chad, Equatorial Guinea, Egypt, Ethiopia, Gabon, Mauritania, Morocco, Mozambique, Niger, Seychelles, South Africa, Sudan and Togo." He added that PETRONAS' business in the Republic of the Sudan is one of the biggest operations for the company outside of Malaysia.
He said due to Sudan's importance to PETRONAS in terms of the company's overseas operations, it is not a coincidence that 30 August 2004, the fifth anniversary of Sudan's First Oil, was selected to mark the start of the PETRONAS Trans Sahara 2004 expedition.
Apart from MISC, the PETRONAS Trans Sahara 2004 expedition is also supported by other co-sponsors including Ford, KUMHO Tires and BlueTECH.
Daily updates during the expedition will be available in the PETRONAS Adventure Team's website at www.petronasadventure.com.
PAT, a part of the PETRONAS Motorsports family, has previously embarked on five successful expeditions, proudly carrying the PETRONAS and Malaysian flags in countries where the national oil corporation operates. Past adventures included Passage to Tibet in 1999, Indo China in 2000, Silk Road in 2001, Siberia in 2002, and Africa Trek in 2003.
Issued by
Media Relations & Information Department