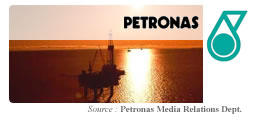 PETRONAS is pleased to announce a new gas discovery at its PC4 gas field, offshore Sarawak. The PC4-1 exploration well, situated about 108 kilometres northwest of Miri in a water depth of 73 metres was spudded in January 2006 and reached a final total depth of 3,273 metres below sea level.
The well, drilled by PETRONAS in its efforts to discover more gas reserves, encountered a single gas column of 630 metres, which is a new record for Sarawak. This new gas discovery has potential for development. It also opens up the potential of the surrounding area where several prospects of a similar type have been identified. Other gas fields in the vicinity of the PC4 discovery are F38, F2 Attic, B12 and the gas producing B11 field.
In December 2005, PETRONAS announced its Kanowit gas discovery. In view of this continued success, PETRONAS is optimistic of its efforts to enhance hydrocarbon reserves for the benefit of the country.
Issued by
Media Relations Department