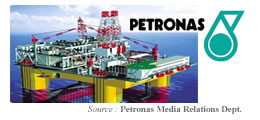 PETRONAS plans to continue participating in Formula One by extending its long-standing partnership arrangement with Sauber to the new BMW managed team starting in 2006. PETRONAS will be discussing with representatives of the new team on its potential participation soon.
It was announced yesterday that BMW is acquiring majority interest in Sauber Holding, the company that operates the SAUBER PETRONAS team in the FIA Formula One World Championship. PETRONAS has been kept well informed of the progress of discussions between BMW and Sauber officials and has been supportive towards the move as it offers the team the possibility of improving their sporting performance.
PETRONAS' 11-year collaboration with Sauber extends beyond Formula One's global exposure. Technology transfer programmes conducted at Sauber PETRONAS Engineering, a 60:40 joint-venture company owned by Sauber and PETRONAS have produced more than 50 automotive engineering specialists for Malaysia. Its efforts in developing capabilities have seen PETRONAS formulate and supply advanced fuel and lubricants for the consumption of the Sauber PETRONAS Formula One cars as well add new chapters in Malaysia's engineering milestones with the creation of automotive engines, in particular the GP1, which powered Malaysia's first super bike, the PETRONAS FP1.

Issued by
PETRONAS MOTORSPORTS