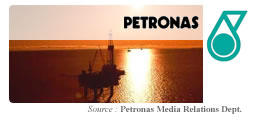 PETRONAS has set up a state-of-the-art 3D immersive visualisation centre, a facility that will significantly enhance its capability in the interpretation and evaluation of upstream data and greatly improve its upstream decision making processes.
The Centre, located in Tower 2 of the PETRONAS Twin Towers in Kuala Lumpur, is the first of such facility to be owned by a national oil company in Southeast Asia. It is equipped with the latest immersive visualisation technology with a 12-foot radius rear-lit curved screen, three edge-blended 6000 lumens digital light processing projectors and is driven by the latest visualisation system.
With this capability, geo-scientists, physicists and well design engineers would now be able to work simultaneously, more efficiently and with greater precision in assessing and making decisions on the selection of wells for drilling, evaluation of oil and gas fields, field and reservoir development plans, as well as management and design of surface facilities.
Collaboration through the use of the Centre between these professionals, who currently perform their tasks sequentially and separately, will not only result in more accurate interpretation of subsurface data but also in faster turnaround time to meet upstream exploration and development business objectives.
The Centre was officially opened on 18 August 2004 by PETRONAS' President and CEO Tan Sri Dato Sri Mohd Hassan Marican at a simple ceremony attended by senior officials of Malaysia's production sharing contractors as well as other upstream service providers.
With the opening of the Centre, PETRONAS now joins a growing community of corporations in the world that are leveraging on the technology of immersive visualisation in their operational and decision-making processes. The Centre also marks another milestone in PETRONAS' journey to become a capability-driven global upstream player.
Issued by
Media Relations & Information Department