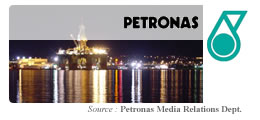 PETRONAS today signed a Letter of Intent (LOI) with China's carmaker Nanjing Automobile Corporation (NAC) and Brilliant Culture Group Limited (BCG) towards the use of its PETRONAS E01 engine technology for the carmaker's vehicle line-up.Under the LOI, PETRONAS and NAC will assess the engine technology's suitability and develop engine specifications to suit the NAC's recommended platforms. BCG is expected to co-invest with NAC in the manufacturing facilities for the engine.
NAC, a state-owned corporation of China, is one of the most important automotive industrial enterprises in the country with more than 30 subsidiaries and 400 affiliated companies. It is headquartered in Nanjing City in Jiangsu Province. BCG, on the other hand, is a consulting firm whose expertise includes strategic planning, marketing and government relations. It has offices in Beijing, Shanghai and Hong Kong.
The signing of the LOI took place in Beijing in the presence of Malaysia's visiting Deputy Prime Minister Datuk Seri Najib Tun Abdul Razak. Signing on behalf of their respective companies are PETRONAS' President/Chief Executive Officer Tan Sri Dato Sri Mohd Hassan Marican, NAC's Vice President Mr Lu Zhenxin, and BCG's Managing Director Ms Maggie Ip.
With the signing of the LOI, the three parties will further explore works on the PETRONAS E01 technology to produce 1.8-litre to 2.2-litre engine family. The compact design of the PETRONAS E01 Engine allows it to be fitted into various vehicle platforms with customised intake and exhaust manifold to match vehicle requirement.
The PETRONAS E01 Engine was a result of PETRONAS' involvement in the Formula One when it became, in 1995, the main sponsor of the SAUBER PETRONAS Team. The collaboration provided it with the opportunity to engage in the value-added automotive engineering technology R & D. One of the immediate fruits of this collaboration was the successful development of the PETRONAS E01 Engine in 1998 by a group of PETRONAS engineers. In 1999, the PETRONAS E01 Engine was fitted into the official cars of the first PETRONAS Malaysian Formula One Grand Prix.
PETRONAS first entered China in 1991 in the oil and gas exploration sector. Since then, the company has expanded into the downstream sector of the country's oil and gas industry. It has a liquefied petroleum gas joint venture in Jiangsu Province and in 2004 entered China's lubricant market through a Shenzhen-based marketing company, PETRONAS Marketing (China) Co. Ltd in Shenzhen.
Issued by
Media Relations Department