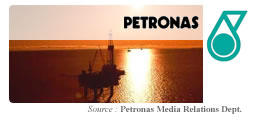 PETRONAS today announced its sponsorship of the BMW SAUBER F1 Team, extending its long-standing arrangement with SAUBER to the new BMW-managed Team. The agreement between PETRONAS and BMW formalising the new partnership was signed in Kuala Lumpur today.
Under the terms of the agreement, PETRONAS will become a Premium Partner to the BMW SAUBER Formula One Team starting in 2006. With the exclusive rights of a Premium Partner to the Team, PETRONAS will be able to continue its existing activities in the prestigious motor sport and enjoy all the marketing and advertising benefits the sport has to offer.
In addition, the four-year sponsorship agreement will further enhance PETRONAS' global branding efforts through the extensive international exposure offered by the Team's Formula One marketing activities. PETRONAS will also have the opportunity to utilise BMW's motor sports expertise to help nurture and develop young Malaysian drivers.
Signing on behalf of the respective companies were Mr. Mohamed Azhar Osman Khairuddin, Head of Legal and Corporate Affairs Division, PETRONAS and the Director of BMW Motorsports, Professor Dr. Mario Theissen. The agreement was signed in the presence of PETRONAS President and Chief Executive Officer, Tan Sri Dato Sri Mohd Hassan Marican and Mr. Peter Sauber, who is now the advisor to the BMW SAUBER F1 Team.
The Agreement follows the announcement in June 2005 by BMW for the acquisition of majority interest in Sauber Holdings, the company that operates the SAUBER PETRONAS Team in the FIA Formula One World Championship.
Through its 11-year collaboration with SAUBER in Formula One, PETRONAS has been able to enhance and position its brand globally in support of the company's business expansion in the international oil and gas industry. The association with Formula One has given the opportunity for relevant technology acquisition and capability development as well as boosted PETRONAS products' R&D capability, especially in the areas of fuel and lubricants.
Issued by
Media Relations Department