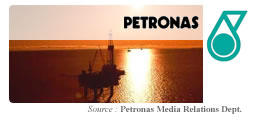 PETRONAS has signed two gas sales agreements (GSA) with Murphy Oil and PETRONAS Carigali Sdn Bhd for the supply of gas from the fields in Blocks SK309 and SK311, and from the Kikeh field, offshore Sarawak and Sabah respectively.
Under the agreements, Murphy Oil and PETRONAS Carigali as sellers will supply 250 million standard cubic feet per day (mmscfd) of gas from the two blocks to the PETRONAS LNG Complex in Bintulu for an initial firm period of five years, with a provision to supply up to 350 mmscfd for another 10 years.
The sellers also agreed to supply 120 mmscfd of associated gas from the Kikeh field, which is in the deepwater Block K, to the PETRONAS Methanol plant in Labuan for an initial firm period of four years, and to continue the supply thereafter until the depletion of the field's reserve.
The gas delivery from Blocks SK309 and SK311 is targeted to commence within the first half of 2009, while that from Kikeh is expected in January 2008. Murphy Oil as operator holds 85% equity interest in each of Blocks SK309 and SK311, and an 80% interest in Block K. PETRONAS Carigali owns the remaining equity interests in the three blocks.

These new supply arrangements are a testimony to PETRONAS' commitment in ensuring the security of feedstock gas supply to both of its facilities to fulfill its obligation to its downstream LNG and methanol customers.

The GSAs were signed at the PETRONAS Twin Towers in Kuala Lumpur. PETRONAS was represented by its Vice-President of Exploration & Production Business Encik Abdullah Karim, while Murphy Oil was represented by Mr. David Wood, President of Murphy Exploration & Production Company – International. PETRONAS Carigali was represented by its Managing Director/CEO Encik Mohamad Johari Dasri.
Issued by
Media Relations Department