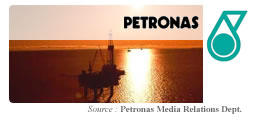 PETRONAS is pleased to inform that it has started crude oil production from its Block 5A in Sudan, operated by White Nile (5B) Operating Company Ltd, which is a partnership between PETRONAS (68.875%) ONGC Videsh Ltd of India (24.125) and Sudapet of Sudan (8%).Current production rate from the Thar Jath field is expected to stabilise at about 20,000 barrels per day (BPD), before gradually rising to 60,000 BPD by the end of this year. The partners have made provisions to increase the capacity to 150,000 BPD.
The Thar Jath field, measuring 54 square kilometres, is located within the prolific Muglad Basin 900 kilometres south of Khartoum. Its development involves the setting up of new infrastructure to store, treat and transport the oil, and linking this infrastructure to the existing facilities currently owned and operated by Greater Nile Petroleum Operating Company Ltd, a consortium in which PETRONAS, ONGC and Sudapet are also members.
The crude oil will be treated at a new central processing facility and will be transported via a new 172-kilometre pipeline to an existing pump station in Heglig before it makes its way through GNPOC's 1,542-kilometre pipeline to Port Sudan. First oil from Thar Jath is expected to reach Port Sudan for commercial lifting in August 2006.
The new oil from Block 5A will enhance Sudan's crude production, which currently stands at an average of 255,000 BPD.
Apart from Block 5A, PETRONAS has major interests in several other acreages in Sudan, including Block 1, 2, & 4; Block 3 &7; Block 5B; Block 8 and Block 15.
To mark the first oil, a ceremony was organised in Khartoum on 26 June which was attended by more than 500 guests, including Sudan's Minister of Energy and Mining Dr. Awad Ahmed Al-Jaz, Minister of Transport Eng. Khual Maniang, State Minister of the Presidential Palace Telary Daeng and Chairman of Energy Committee, Mr. Husien Morniot. Other guests included Malaysian Ambassador to Sudan Dato' Mohd. Zamri Mohd. Kassim and Chairman of PETRONAS Sudan Encik Hashim Wahir.Issued by
Media Relations Department