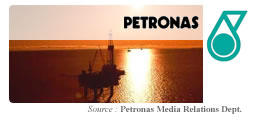 The Prime Minister of Malaysia Dato' Seri Abdullah Haji Ahmad Badawi, today officiated the ground breaking ceremony of the Sabah Oil and Gas Terminal (SOGT) project at Kimanis, in the Papar District of Sabah. The ceremony was also attended by the Chief Minister of Sabah Datuk Seri Musa Haji Aman and other State officials, PETRONAS President & Chief Executive Tan Sri Dato Sri Mohd Hassan Marican and senior officials of PETRONAS.Covering an area of 250 acres, the SOGT is a main component of the Integrated Oil and Gas Infrastructure Project of Sabah that also comprises the development of the oil and gas fields offshore Sabah and the construction of a 500 km gas pipeline to the PETRONAS LNG Complex in Bintulu, Sarawak.
Construction of the terminal will commence in June 2007 and is scheduled to be operational by January 2010. Once completed, the terminal will be able to receive, store and export crude oil as well as to receive, process, compress and transport the gas produced from the fields offshore Sabah, namely Gumusut/Kakap, Kinabalu Deep & East, Kebabangan and Malikai.
The SOGT will have a capacity to handle up to 300,000 barrels of crude oil per day and one billion standard cubic feet of gas per day. The crude oil and condensate received and stored at the terminal will be loaded into vessels for export through single point moorings (SPMs) located offshore Kimanis. The gas, on the other hand, will be transported to Bintulu through the 500 km pipeline and will be processed into LNG at the PETRONAS LNG Complex. Some of the gas will also be used for consumption in Sabah.
The new terminal will complement the operations of the existing Sabah Gas Terminal, the Labuan Crude Oil Terminal and the Labuan Gas Terminal which will continue to handle the oil and gas produced from other fields offshore Sabah.
The SOGT project is expected to further spur the growth of the petroleum industry in Sabah and in turn will result in spin-off activities that could contribute towards the economic and industrial growth of the State. Apart from helping to develop the petroleum resources of Sabah in a more efficient manner, the terminal will see the increased production of Malaysia's crude oil and natural gas both for domestic consumption as well as for export to generate additional foreign exchange.
Issued by
Media Relations Department