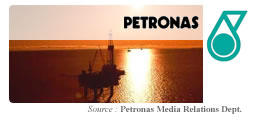 The Prime Minister of Malaysia Dato Seri Dr Mahathir Mohamad today officially opened the PETRONAS Petroleum Industry Complex (PPIC) in Kertih. The official opening ceremony of the complex was also attended by several Federal Government Ministers, the Terengganu Menteri Besar Dato' Seri Abdul Hadi Awang and other State officials, PETRONAS Chairman Tan Sri Dato' Seri Azizan Zainul Abidin, PETRONAS President & Chief Executive Tan Sri Dato' Mohd Hassan Marican and senior officials of PETRONAS' joint-venture partners.
The PPIC, comprising a total of 41 installations and supporting plants, has been conceptualised and developed over the past 20 years by PETRONAS — with the support from its joint venture partners — as an integrated world-class complex housing many world-scale petroleum-based manufacturing facilities. These include an oil refinery with a condensate splitter, six gas processing plants, 11 gas-based petrochemical plants, five ancillary facilites, six common support facilities and 11 other facilities catering to the needs of the complex, its employees and their families and the surrounding community. All these plants and facilities, located on about 4,000 hectares of land, constitute a truly unique model of petroleum industry integration not available anywhere else in the world.
The development of the PPIC, spurred by the discovery of oil and gas offshore Terengganu, was guided by structured value-adding oil, gas and petrochemical development strategies formulated by PETRONAS in support of and parallel to the industrialisation policies and nation-building efforts charted by the Malaysian Government.
The PETRONAS-led development of the complex has enhanced Malaysia's competitive edge and attracted major petroleum-based industry players to set up their operations in Kertih, once a sleepy fishing village. Since 1980, close to RM70 billion has been invested to develop and integrate the petroleum industry in this area. About 57 per cent of this figure, which includes funds invested in the upstream sector, came from foreign direct investment (FDI), making Kertih an industrial location with the biggest concentration of FDI in Malaysia.
The development and the integration of the petroleum industry in Kertih has transformed it into a nucleus and catalyst for the country's industrialisation process, generating substantial spin-off benefits to Malaysia and Malaysians. These include the transfer of skills and technology, the development of human capital and many other socio-economic benefits.
Issued by
Media Relations & Information Department