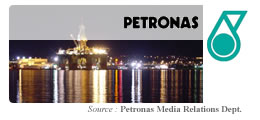 PETRONAS, through subsidiary PETRONAS Carigali Overseas Sdn Bhd, has acquired an interest in the onshore Munir Block in Iran from Edison International and Lundin (Munir) Ltd.
Under the newly-approved farm-in transaction, PETRONAS Carigali Overseas now owns a 30 per cent stake in the block, while Edison International and Lundin Munir have 40 per cent and 30 per cent stakes, respectively.
Edison International, which is the operator of the block, previously controlled 60 per cent, with the remaining 40 per cent equity owned by Lundin Munir. Edison International is the exploration and production arm of Edison Gas, Italy's oldest energy company, while Lundin Munir is wholly-owned by Lundin Petroleum AB, a Swedish independent oil and gas exploration and production company.
The Munir Block is located in the Zaghros Fold Belt of Iran, one of the most oil prolific sedimentary basins in the world. Operations in the block are currently on-going with the acquisition of 2D seismic data, while exploratory drilling activities are expected to begin towards the second half of 2003.
Apart from the Munir Block, PETRONAS has a 40 per cent interest in the Sirri A and E oil fields offshore Iran. The fields, developed with partner TotalFinaElf, started production in October 1998 and February 1999, respectively and are now producing close to 100,000 barrels of oil per day.
Together with TotalFinaElf and Gazprom of Russia, PETRONAS is involved in the development of Iran's South Pars 2 and 3 gas fields. The project was brought on stream earlier this year, making it the first gas project by PETRONAS and its partners to have come on stream in Iran. TotalFinaElf, the operator, has a 40 per cent interest in the project, while PETRONAS and Gazprom each has a 30 per cent stake.
Issued by
Media Relations & Information Department