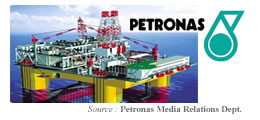 PETRONAS, together with the Philippines National Oil Company (PNOC), has been awarded a Service Contract by the Philippines Government to explore for oil and gas in the offshore Mindoro block in the Philippines.The Service Contract was signed today in Manila between the Philippines Department of Energy, PETRONAS Carigali Overseas Sdn Bhd (PCOSB) and PNOC Exploration Company (PNOC-EC). PETRONAS was represented by its President & Chief Executive Officer Tan Sri Dato Sri Mohd Hassan Marican, the Philippines Government by its Secretary of Energy HE Vincent S. Perez, and PNOC-EC by its President Mr Eduardo V. Manalac.
Under the Contract, both PCOSB and PNOC-EC will commit to drill one exploratory well in the Mindoro Block with an option to either drill another exploratory well or acquire new seismic data. The Contract's commitment will also include geological and geophysical studies and a possible seismic survey in the Block, which measures about 14,667 square kilometres. PCOSB, with participating interest of 80 per cent, is the operator of the Block, with the remaining 20 per cent held by PNOC-EC.
The Contract also calls for the partners to complete their work programme during the first two years of the Contract period, after which the contractors will decide whether to proceed into the subsequent phases of the exploration period.
The signing of the Service Contract marks the return of PETRONAS to the upstream exploration activities in the Philippines following its previous effort in Mindanao's Cotabato Block. PETRONAS is also active in the downstream sector in the Philippines through a joint venture in the liquefied petroleum gas terminal operation, bottling and distribution business in Mindanao.
Issued by
Media Relations & Information Department