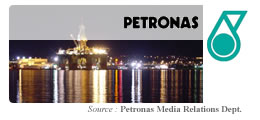 PETRONAS today introduced its Program Bakti Pendidikan, already widely successful in other parts of Malaysia, to Kuala Lumpur and Selangor.
The introduction of this adopt-a-school programme was held together with the launch of the PETRONAS' Merdeka Campaign 2005, in the spirit of "Education – the core for human capital development", which is the theme of this year's National Day Parade.
The event took place at the Sekolah Kebangsaan Wangsa Maju Seksyen 2, in Wangsa Maju, which is one of the two adopted schools in Kuala Lumpur. The other school is the Sekolah Kebangsaan Bukit Pantai. Two schools in Selangor will be part of the programme soon.
The Program Bakti Pendidikan PETRONAS was initiated in 2002 by PETRONAS and its joint venture partners operating in Kertih, Terengganu to help improve the overall academic performance of the rural school children and to support the Government's efforts to improve their level of achievement in English, Mathematics and Science.
Under this initiative, PETRONAS introduced a structured, long-term integrated education programme, including the provision of tuition classes in the three subjects. This is part of the larger corporate social investment programme undertaken by the PETRONAS Group of Companies to promote human capital development in the communities wherever the Group operates.
To date, the Program Bakti Pendidikan PETRONAS has been implemented in 26 schools in Terengganu, Kedah, Penang, Melaka, Sabah and Sarawak. The number will increase to 30 with the extension of the programme to four schools in Kuala Lumpur and Selangor.
What is special about the Program Bakti Pendidikan PETRONAS is the commitment from the growing pool of PETRONAS staff volunteers towards the successful, sustainable implementation of the programme where they have set aside some time from their work schedule to conduct planned activities with the students of the adopted schools.
Issued by
Media Relations Department