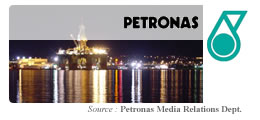 PETRONAS Carigali Sdn Bhd, the wholly owned exploration and production arm of PETRONAS, has successfully installed the first Stratapac Separation Tool in its TK-54L well in Tukau Field, offshore Miri, Sarawak.The Stratapac Separation Tool, believed to be the first of such installation in the world, was completely installed on 27 February 2005 and has resulted the well production to increase by approximately 400 per cent.
The tool is designed to be set inside the well tubing for sand control purposes. By positioning it in the middle producing zone (as shown in the attached right diagram), it can separate the sand from oil in the reservoir, thus preventing the sand to be produced together when oil is flowed to the surface. In this manner, the tool keeps the unconsolidated sand from collapsing and filling up the tubing that may then block the oil from flowing to the surface. A conventional sand control tool is normally installed at the end of the production tubing (as shown in the left diagram).
The Stratapac Separation Tool provides a practical and cost-effective solution to oil field operators working on wells that are experiencing sand failure. With the application of this new technology, the operators will be able to capitalise fully on the potential of the wells. The method proves to be an effective alternative to other expensive conventional sand control tools.
The technology was developed in collaboration with Weatherford (M) Sdn Bhd, an oilfield service company specialising in providing well completion services and production systems, and represents another milestone for PETRONAS Carigali in its continuous effort towards achieving operational excellence through close collaboration with its service providers.
Issued by
Media Relations Department