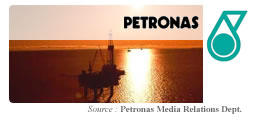 PETRONAS, through its subsidiary PC Muriah Ltd, yesterday signed a gas sales agreement (GSA) with Indonesia's state owned electricity company, Perusahaan Listrik Negara (PLN).
Under the terms of the GSA, PETRONAS will supply up to 145 million standard cubic feet of gas per day to PLN's Tambak Lorok Power Plant in the Central Java province for a period of up to 10 years.
The gas will be supplied from the Kepodang field within the PETRONAS-operated Muriah Block, located about 180 km from Semarang. The field is fully appraised and ready to be developed.
The conclusion of the GSA is a culmination of efforts from PETRONAS, PLN and all other relevant parties such as BPMIGAS, Directorate General of Oil and Gas and the Indonesian Ministry of Energy And Mineral Resources to realise the economic value of the project. It also demonstrates PETRONAS' operating capability and its seriousness in positioning itself in the gas market in Java as well as in Indonesia's petroleum industry.
A relatively new player in Indonesia, PETRONAS is currently building its oil and gas business portfolio in that country. Apart from its upstream assets, PETRONAS also has strategic equities in a number of downstream ventures, including in a gas transmission pipeline network. It has recently ventured into petroleum products marketing and is now set to commence its service station business in Indonesia.
Issued by
Media Relations Department
Legal & Corporate Affairs Division