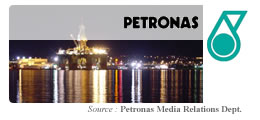 Petroliam Nasional Bhd (PETRONAS), in its continuous efforts to increase Malaysia's petroleum reserves base, is pleased to announce that its wholly-owned exploration and production arm PETRONAS Carigali Sdn Bhd, has discovered gas at two wells offshore Sarawak.
The two wells, whose production tests flowed gas at a combined rate of 75.4 million standard cubic feet (SCF) of gas per day, were the results of PETRONAS Carigali's drilling activities so far for this year.
The first discovery well, the F38.1, is in Block SK310, which is an open acreage in the Central Luconia Province offshore Sarawak. The well is located about 160 kilometres north of Bintulu in a water depth of 90 metres. It was drilled to a depth of 3,000 metres, encountering about 426.7 metres of gas column. Two production tests carried out at the well flowed at a cumulative rate of 50.5 million SCF of gas and 224 barrels of hydrocarbon liquid per day. The well was drilled by a semi-submersible rig using a slim-hole well design, allowing PETRONAS Carigali to reduce both the drilling time and cost by about 20 percent.
The second well, the F9.2, is within Block SK308, which is about 200 kilometres west of Miri in a water depth of 96 metres. Drilled to a depth of 1,465 metres to appraise the quality of the reservoir and to prove up the additional gas reserve in the F9 Field, the well encountered about 42.5 metres of gas column. Production tests at the well flowed gas at a maximum rate of 24.9 million SCF per day. The well also yielded the much needed data on reservoir quality, continuity and productivity of the F9 Field.
The discovery at the F38.1 well and the results of the appraisal of the F9.2 well reflect PETRONAS' and PETRONAS Carigali's commitment towards finding new oil and gas pools to increase and augment the country's petroleum reserves. They have also upgraded the prospectivity of the remaining undrilled prospects in the two areas.
Issued by
Legal & Corporate Affairs Division