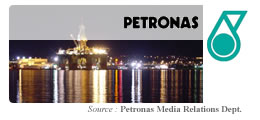 Shanghai, July 14, 2004: PETRONAS, Malaysia's national petroleum corporation, today launched its range of premium grade automotive and motorcycle engine oils in China, officially entering the country's lubricants market. The move into this downstream activity is expected to further enhance PETRONAS' presence in China, where the corporation already ventured into the country's oil and gas industry since 1991.
The launch ceremony held in Pudong Shangri-la Hotel today was officiated by PETRONAS' Vice-President of Oil Business Datuk Anuar Ahmad, and Chief Executive Officer of PETRONAS Marketing (China) Co Ltd (PMCCL) Mr. Clement Ooi.
PETRONAS will initially market its range of SYNTIUM and SPRINTA lubricants, respectively for cars and motorcycles, through PMCCL, a newly established wholly owned subsidiary of PETRONAS, whose formation was launched in Shenzhen on 25 June.
The engine oils for passenger car that will be marketed include the synthetic range of SYNTIUM 5000, 3000, 1000 and 800. The products will be available in 1-litre and 4-litre packs.
"All products in the SYNTIUM range have been developed using race-proven Formula One technology through PETRONAS' involvement in and close collaboration with the SAUBER PETRONAS Formula One team. They have also been extensively tested and proven in field, racetrack and laboratory environments," Datuk Anuar said.
All SYNTIUM products meet or exceed the American Petroleum Institute (API) SL international performance standards, currently the highest performance benchmark for gasoline engine oils. As a result, the SYNTIUM range offers customers the ultimate engine performance and protection even under the most extreme and demanding driving conditions.
The SPRINTA range includes high-performance lubricants for motorcycle engines, including the fully synthetic SPRINTA 4T 5000 and the mineral oil-based SPRINTA 4T 2000, 4T 1000 and SPRINTA 2T 1000.
"The SPRINTA lubricants have been developed with the technology and experience gathered from various PETRONAS' motor sports' programmes, the most prestigious one being the Foggy PETRONAS Racing Team competing in the World Superbike Championship, the test beds for these products," said Datuk Anuar.
The range of PETRONAS' lubricants enjoy a significant share of the Malaysian market. Apart from China, PETRONAS' lubricants are already available in Hong Kong, Macau, Indonesia, the Philippines, Thailand, Myanmar, Sudan, Malta and South Africa.
Issued by
PETRONAS Marketing (China) Co. Ltd.