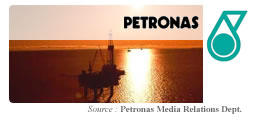 PETRONAS today launched its Motorsports Technical Centre and Motorsports Museum in its efforts to further develop, expand and add value to all technological expertise and experiences gained through its involvement in various motorsports activities.The launch of the PETRONAS Motorsports Technical Centre and PETRONAS Motorsports Museum, located within the premises of PETRONAS Research & Scientific Services Centre in Bangi, Selangor, was officiated by Youth and Sports Minister Dato' Hishammuddin Tun Hussein. Also present were PETRONAS Chairman Tan Sri Dato' Seri Azizan Zainul Abidin and PETRONAS President & CEO Tan Sri Dato' Mohd Hassan Marican.
The PETRONAS Motorsports Technical Centre will provide an avenue to cultivate and nurture the development of local expertise and know-how especially in automotive engineering and related technologies, and create an environment to promote learning and innovative culture among Malaysians. Nick-named "Block K", the centre will also function as the technological nerve centre for automotive engineering, and act as the local technology arm for Sauber PETRONAS Engineering AG, the Switzerland-based Sauber-PETRONAS automotive engineering outfit. In the long-term, the centre is expected to generate returns for PETRONAS through the commercialisation of its research and development (R&D) findings as well as through the provision of consultancy services.
Among the services to be offered by the Centre include technical consultancy in the areas of engine performance enhancement, race vehicles construction, fuel and lube testing, electronics, and road-sports vehicles. The Centre will also provide consultancy in the areas of race management and related services.
The museum, on the other hand, will showcase PETRONAS' various involvements and achievements in motorsports and related activities.
PETRONAS has been involved in motorsports for the past 15 years, where motorsports activities and events have not only helped in its global branding efforts but have also functioned as test-beds for the development of various technologies and value-added products. Through PETRONAS Motorsports, which was set up in 1998, all the cutting edge technologies and experiences acquired from all these endeavours are now brought back to Malaysia to assist the efforts undertaken by the Government to develop and enhance local technological excellence.
Issued by
Media Relations & Information Department