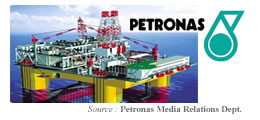 PETRONAS has further enhanced and strengthened its presence in Sudan by entering into the downstream refining business, reinforcing its commitment to provide a mutually beneficial contribution to the development of Sudan's petroleum industry.
The company yesterday (29 August) concluded its participation in the new Port Sudan Refinery Project, officially expanding its entry into the downstream business in the country following its acquisition of the entire retail assets of Mobil Oil Sudan Ltd through its wholly owned subsidiary PETRONAS Marketing Sudan Ltd (PMSL) in March 2003.
An agreement signing ceremony was held in Khartoum in conjunction with the sixth anniversary celebrations of Sudan's Petroleum Day. The ceremony was officiated by Sudan's Minister of Energy and Mining Dr Awad Ahmed El-Jaz and Minister of Finance and National Economy Mohammed Hassan El-Zubair. Also present was PETRONAS President and Chief Executive Officer Tan Sri Dato Sri Mohd Hassan Marican. Officials from relevant government departments and the Malaysian Embassy, as well as PETRONAS' business partners attended the ceremony.
The new Port Sudan Refinery Project, located at Port Sudan, which is the only entry port in the country, is a high technology complex refinery with a total capacity of 100,000 barrels per day. It is an export refinery designed to process high acid crude that will add value to the Dar Blend from Sudan Melut Basin Blocks 3&7 where PETRONAS has a 40% equity interest. The production will meet the growing demand of petroleum products in Sudan and neighbouring countries under the Common Market of East and South Africa (COMESA) once it is fully operational by early 2009.This state of the art refinery will produce high quality petroleum products meeting Euro 4 specifications.
PETRONAS International Corporation Ltd, a wholly-owned PETRONAS subsidiary, has a 50 per cent interest in the refinery project while the remaining 50 per cent equity is held by the Ministry of Energy and Mining. Both PETRONAS and the Ministry will jointly invest, develop and operate this export refinery.
PETRONAS' entry into Sudan's refining business is testimony to PETRONAS' long-term commitment to the development of the petroleum industry in Sudan. PETRONAS is already active in the downstream retailing and aviation through PMSL and upstream sectors of the Sudan's oil industry. PETRONAS already has interests in Blocks 1, 2 and 4; Blocks 3 and 7; Block 5A, Block 5B and Block 8.
Issued by
Media Relations Department