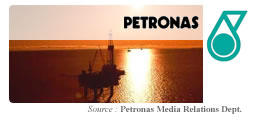 PETALING JAYA: The management of Management & Excellence S.A. (M&E) has apologised to Petroliam Nasional Bhd (Petronas) for carrying out a survey without the company's consent and based on incomplete information.
Its chief executive officer Dr William Cox, in an apology letter addressed to Petronas president Tan Sri Mohd Hassan Merican, said the firm apologised for the damage caused to Petronas and its reputation as a result of the ethics rating study done by the firm in February.
"The survey was based on incomplete information and carried out without explicit consent from Petronas," Cox said yesterday in the letter, a copy of which made available to the press by Petronas.
He said the firm had taken steps to rectify the situation by issuing a press statement explaining and clarifying the survey with regards to Petronas.
It was reported earlier this year that Petronas was ranked "least transparent" in M&E's latest survey on The World's Most Sustainable and Ethical Companies.
The annual survey, which started three years ago, evaluates and compares the compliance of each company with over 280 internationally recognised standards in transparency, corporate governance, social responsibility and ethics.
Source: THE STAR, 30 Nov 2006