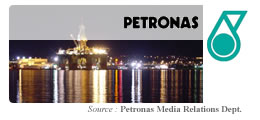 Khartoum, 28 August 2004: The Taeeb Sayed Basic School in Khartoum today was given a "face-lift" when members of the PETRONAS Adventure Team currently on its PETRONAS Trans Sahara 2004 expedition made a stop at the school to participate in a PETRONAS community development programme.
The Team, together with members of the PETRONAS staff and Malaysian students based in Khartoum, rolled up their sleeves and took part in a "refurbishment" programme at the school. They worked hand-in-hand to re-tile and re-paint several sections of the school as well as participated in landscaping activities to help beautify the school grounds.
The PETRONAS Adventure Team also put up a special interactive science show at the school to help nurture an active interest in science among its students.
The programme at the school is part of PETRONAS' community programme held in conjunction with the PETRONAS Trans Sahara Expedition 2004. This overland four-wheel drive expedition is the Team's sixth adventure, taking it across the Sahara desert from Khartoum, Sudan to Casablanca in Morocco from August to October. The Team will also participate in several other community programme organised by PETRONAS at selected destinations along the expedition route.
The Team, a part of the PETRONAS Motorsports family, has previously embarked on five successful expeditions, proudly carrying the PETRONAS and Malaysian flags and messages of good will to countries where the Malaysian national oil corporation operates. Past adventures included Passage to Tibet in 1999, Indo China in 2000, Silk Road in 2001, Siberia in 2002, and Africa Trek in 2003.
Issued by
PETRONAS COUNTRY OFFICE, SUDAN